What is Kinesiology?
Kinesiology is a dynamic holistic modality that incorporates Western physiological science with Eastern energetic healing techniques.
How does Kinesiology work?
Kinesiology use subtle muscle monitoring to access biofeedback from the body which in turn identifies any underlying stress and their causes.
As every muscle is connect to your brain, any stress the brain registers, the body will have a muscle response. This response guides the practitioner to what corrections are needed to balance your body.
Using Kinesiology to improve your health
Kinesiology can help the body to improve many health issues
These include:
Stress and anxiety
Tiredness & low energy
Physical pain & injuries
Emotional Issues
Depression & anxiety
Addictions
Phobias and fear
High & low blood pressure
Asthma
Nutritional & allergy issues
Bed wetting
Vertigo and Balance problems
Hormonal issues
Digestive problems
Learning difficulties
Generally feeling unwell
Cardiovascular & respiratory issues
Skin disorders
Immune and autoimmune issues
Reproductive issues
Kidney & Bladder problems
Unresolved issues
Memory problems
Attention issues
Health fund rebates
Contact us for more information
What to expect from a Kinesiology Treatment: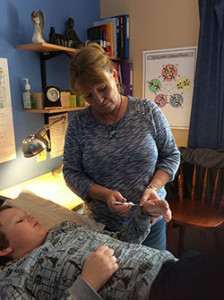 Kinesiology is suitable for infants through to the elderly. Kinesiology is natural, safe, non invasive, pain and drug free.
Initial Kinesiology treatments are for  1 1/2 hours with all subsequent treatments one hour.
During your Kinesiology treatment the practitioner "asks" the body direct questions, mostly by the use of hand modes, different points on the body and verbal requests. As Kinesiology is using a muscles response to "answer" these questions it is your body that is indicating where the stress lays.  Every muscle is connected to your brain, any stress the brain registers the body will have a muscle response, also known as biofeedback. This response guides the practitioner to what techniques are required to balance the body.  As the subconscious is also being accessed, deep set down patterns, emotions, feelings, thoughts and actions are able to be shifted and healed.
Kinesiology extensively uses the Chinese meridian system, acupressure (needle less acupuncture), Tibetan figure 8 energies, chakras, sound (tuning forks), flower essences, holograms, age recessions, neurolymphatic and neurovascular reflexes, emotional stress defusion points and more.